About Carrow Real Estate Services
Staff Profiles
« BROWSE STAFF LIST
---
BROKERAGE & ADVISORY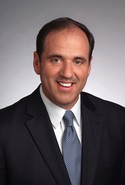 Anthony J. Carrow
, RPA
NYS Licensed Associate Real Estate Broker

Phone: (518) 462-7491 ext. 118
Fax: (518) 462-7503

Dedicated. Knowledgeable. Passionate. These are the words Anthony Carrow's clients have used to describe him. Tony's main goal is to provide value to his clients, and his clients measure that value - time and again - by reduced operating costs, higher occupancy rates, actionable marketing plans and positive cash flow. It is no secret that he cares about his clients and their success - and their words speak volumes. His hands-on approach helps ensure Carrow Real Estate Services exceeds clients' expectations and maintains its position as an industry leader. His extensive resume includes more than 20 years of real estate and hotel management experience. His 'relationship first' approach to business has earned him a regional and growing national reputation as a dedicated and dynamic professional for whom no challenge is too great and no client is too small.
Affiliations
Tony's commitment to his work extends to professional and community organizations, as well. He is a member of the U.S. Green Building Council, past president of the Capital Region Building Owners and Managers Association, and he serves on the board of the Town of Guilderland Industrial Development Agency. He is also heavily invested in his community. He regularly sponsors families in need as well as contributes to a number of regional and national non-profit organizations. A former fire chief, Tony has been an active member of the Westmere Fire Department for almost 25 years, and he currently serves as his fire district's captain.
Education
Tony is qualified as a Real Property Administrator (RPA) by the Building Owners and Managers Association and is an IRS Section 42 Housing Tax Credit Certified Specialist.