About Carrow Real Estate Services
Staff Profiles
« BROWSE STAFF LIST
---
BROKERAGE & ADVISORY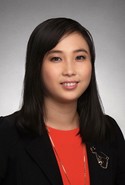 Julie Zhu
Marketing & Communications Administrator

Phone: (518) 462-7491 ext. 100
Fax: (518) 462-7503

Julie Zhu is the marketing specialist with Carrow Real Estate Services, LLC in Albany, NY. She is responsible for facilitating marketing strategies in promoting properties contracted with Carrow for lease or sale. She is also facilitating company marketing campaigns for general business development.
Julie graduated from the University at Albany in 2015 with a master's degree in business administration. She has a background in marketing, communications, information technology, social media, and is skilled in three languages.
Julie currently is involved in the Capital Region Ronald McDonald House Charities events as a volunteer. She enjoys traveling, sports, music and yoga.
Education
Julie received her MBA degree from University at Albany, State University of New York