About Carrow Real Estate Services
Staff Profiles
« BROWSE STAFF LIST
---
PROPERTY MANAGEMENT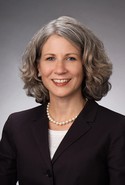 Nancy O. Koller
, RPA

Phone: (518) 337-0578
Fax: (518) 462-7503

Nancy Koller, RPA, is a senior property manager at Carrow Real Estate Services. She is responsible for the management, financial performance, staffing and capital projects for a large portion of Carrow's commercial real estate portfolio. Nancy has been a member of the Carrow team since 2008.
Prior to assuming her current role, Nancy served as Carrow's senior property manager, responsible for managing several buildings, including Albany's One Commerce Plaza, the largest privately owned building in the Capital Region. Over the past three years, Nancy has managed 17 buildings, totaling 2,044,000 square feet.
Affiliations
Nancy is a board member of the Capital Region Building Owners and Managers Association and a past member of New England Women in Real Estate. She is a certified Real Property Administrator and a graduate of Wells College. She is currently a candidate for the Green Building Associate designation.
Education
Nancy is a graduate of Wells College.