The Capital Center at 99 Pine, Albany, New York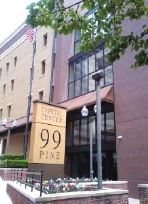 The owner of this 100,000-square-foot Carrow managed property in Albany, New York invested in a number of improvements to attract more tenants at a time when the office vacancy rate is climbing in the city's central business district. The property consists of three interconnected buildings at North Pearl Street and Pine Street and was renamed the Capital Center @ 99 Pine.
Improvements & Operating Cost Reduction
In addition to common area improvements, the owner worked with Carrow and invested in updated heating, cooling and security systems and added a new energy/temperature management control system.
The new and updated systems have resulted in increased tenant comfort, cost savings and a notable reduction in energy usage. The Carrow team assigned to this property utilizes the energy management system (EMS) to fine tune schedules to meet tenant needs, to ensure that temperatures are consistent in the tenant spaces and common areas, and to limit equipment run times. The team also uses the web-accessible EMS to identify potential issues before they become tenant complaints.
In addition to generating positive tenant responses, energy usage for the three months after project completion, compared to the same period the previous year, represented a savings of 26%, 43%, and 26% respectively. Service levels have increased and electric consumption has decreased. Data indicates that this will continue to generate energy reductions. Leveraging Carrow's building management experience and operational efficiency tools makes sense for occupants, the environment and operating budgets. It is, quite simply, good business all around.